Martin Luther King Jr. statue unveiled at
The Georgia State Capitol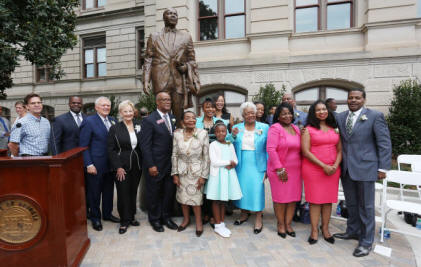 Gov. Nathan Deal, joined by First Lady Sandra Deal, members of the King family, Atlanta Mayor Kasim Reed, Lt. Gov. Casey Cagle, House Speaker David Ralston, Rep. Calvin Smyre, members of the Georgia Capitol Arts Standards Commission (CASC) and other dignitaries, today unveiled the Dr. Martin Luther King Jr. statue at the northeast quadrant of the State Capitol. The eight-foot-tall bronze statue was created with locally sourced materials by Atlanta-based sculptor Martin Dawe of Cherrylion Studios and stands atop a 36-inch pedestal made of Georgia granite.
"We are gathered here today to celebrate the completion of a years-long effort to commemorate the life and works of Georgia's own son, Dr. Martin Luther King Jr.," said Deal. "Dr. King's legacy is one of hope. He gave, and continues to give, men and women a reason to believe and to dream. He expanded the aspirations of future generations. The America we know is a better place because one man followed his conscience. Erecting a monument in his memory, both facing Liberty Plaza and on the grounds of the Capitol of his home state, is a fitting and long overdue honor. Today is an historic occasion, one made possible through the vision, cooperation and collaboration of many. I'm grateful for the dedication and support of the King Estate, Rep. Calvin Smyre, the Georgia Capitol Arts Standards Commission and members of the General Assembly throughout this process. I'm also deeply grateful to Coca-Cola, the Atlanta and Georgia Apartment Associations and the Martin Luther King Jr. Advisory Council for their generous support, without which today would not be possible. Dr. King's legacy will indeed live on with this tribute, and it's a privilege to unveil his statue today."
"I am proud to welcome this new monument memorializing Dr. Martin Luther King, Jr. to his birthplace and the cradle of the Civil Rights Movement, where every building, street and monument bearing his name should stand as a source of pride and excellence for our city," said Reed. "The statue we unveiled today pays tribute to Dr. King's character and legacy. This memorial tells another part of our great state's story and makes an important statement about the value of inclusion, the strength of diversity, and the power of grace. I would like to thank Governor Nathan Deal, the Georgia General Assembly, Representative Calvin Smyre and the Georgia Capitol Arts Standards Commission for their commitment to ensuring that our Capitol honors the legacy of one of our state's most important leaders."
"This is a great day in the history of our state and nation with the unveiling of a statue on Capitol grounds memorializing Dr. Martin Luther King, Jr.," said Smyre. "For the past three years I have worked with and alongside Gov. Deal, the Georgia General Assembly, Carrie Ashbee and the Georgia Capitol Arts Standards Commission, the King family, sculptor Martin Dawe and our entire statue team to make this a reality. As a Georgian and native son, Dr. King inspired our nation and the world with his message and vision. The King statue will inspire and give hope to generations to come."
The Dr. King statue stands in the original location of Georgia's Liberty Bell replica, which rang on Capitol grounds for special and patriotic occasions from 1950 until 1976 and is now located in Liberty Plaza.
_______________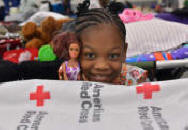 The American Red Cross is there to help families affected by disasters by providing shelter, warm meals and hope in their darkest hour. We need the entire Red Cross community to come together, to help us continue to meet the urgent needs of thousands of families. Every 8 minutes, every day, the American Red Cross responds to a disaster big or small and makes this promise. This year, you can help them keep that promise.

Preparing Makes Sense for Older Americans. Get Ready Now
The likelihood that you and your family will recover from an emergency tomorrow oft depends on the planning and preparation do today. While each person's abilities and nee are unique, every individual can take steps prepare for all kinds of emergencies from fire and floods to potential terrorist attacks. evaluating your own personal needs and make an emergency plan that fits those needs, you and your loved ones can be better prepared. This guide outlines common sense measures older Americans can take to start preparing emergencies before they happen. Preparing makes sense for older Americans. Get Ready Now. .
Keep your car running smoothly with these practical tips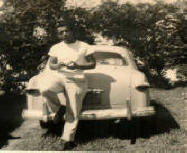 The best way to avoid auto repair rip-offs is to be prepared. Knowing how your vehicle works and how to identify common car problems is a good beginning. It's also important to know how to choose a good mechanic, the kinds of questions to ask, and your consumer rights. This kind of information may help you keep a lid on mechanical mistakes.