| | | | | | | |
| --- | --- | --- | --- | --- | --- | --- |
| | | | | | | |
| ATLANTA BRAVES | | ATLANTA FALCONS | | ATLANTA HAWKS | | PGA TOUR |

Atlanta Super Bowl LIII Host Committee Announces Official Logo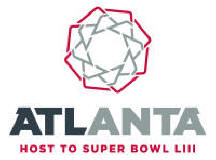 SEPTEMBER 14, 2017 – The Atlanta Super Bowl LIII Host Committee unveiled its official logo and launched its website along with all social media channels.
The Host Committee's color emblem is classic red and modern gray with a distinct aerial view of Mercedes-Benz Stadium as part of the logo.
The letters ATL in the ATLANTA word mark are prominently featured in a powerful dark gray color symbolizing a vibrant, progressive and diverse city.
The red and gray color scheme signifies a bold and innovative spirit that is present every day in a global city that prides itself on a unique, inclusive warmth and charm.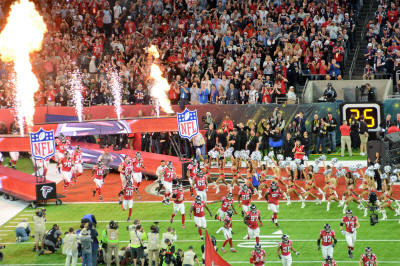 Host to Super Bowl LIII is keenly highlighted in red, which confidently underscores Atlanta's world-class reputation in the sporting community.
The new state-of-the-art Mercedes-Benz Stadium's dynamic roof element in the logo showcases a special red and gray color combination that strategically reveals football imagery with gray goal posts as part of the inner roof panel outline.
This motif visually represents the Atlanta Super Bowl Host Committee's goal to unite this football hotbed as dedicated ambassadors and welcome the preeminent sporting event in the world to Atlanta on February 3, 2019.
The Host Committee has selected AtlSuperBowl53.com as it's official website address The site is live.
***************************************************************************************
[ATLANTA FALCONS LOSE SUPER BOWL LI IN OVERTIME]
*********************************************************
New CEO appointed to lead The First Tee as it reaches 20-year milestone
Keith Dawkins named organization's next Chief Executive Officer
Jersey City, New Jersey (September 29, 2017) –
Keith Dawkins, an executive for Viacom's Nickelodeon, will become The First Tee's next CEO, it was announced today by the World Golf Foundation Board of Directors.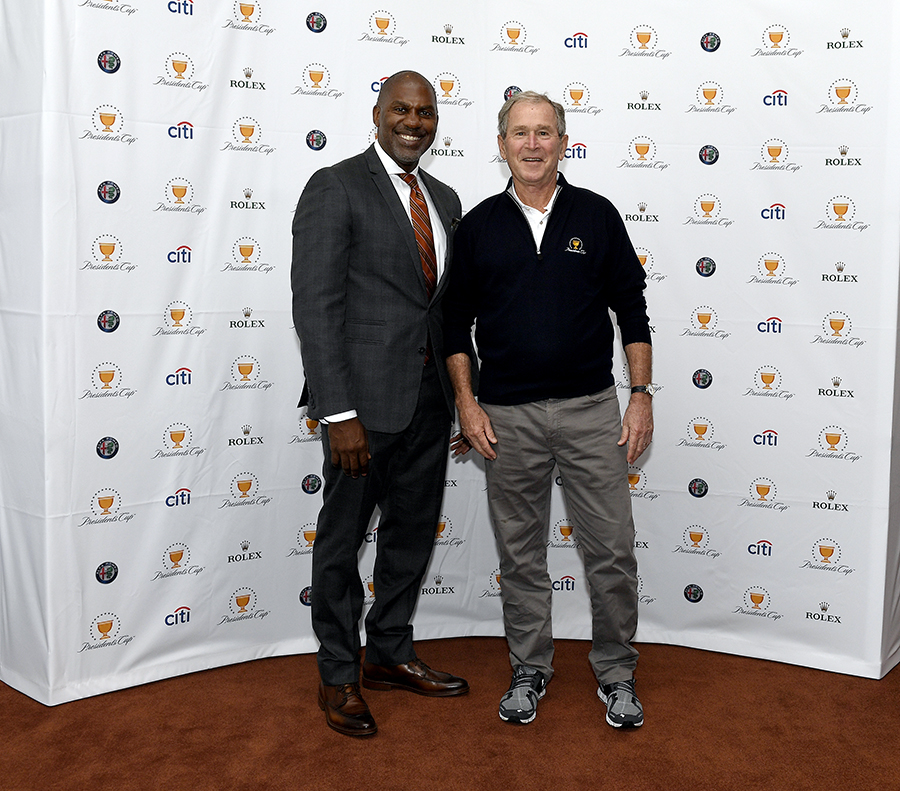 President George W. Bush, The First Tee's Honorary Chairman, welcomed Dawkins to the position this morning at Liberty National Golf Club, site of the 2017 Presidents Cup, alongside The First Tee Chairman Tim Finchem, who introduced Keith to the organization's Trustees during a breakfast meeting. Dawkins will replace current CEO, Joe Louis Barrow, Jr., who is set to retire at the end of 2017.
"The First Tee is a very effective and very necessary program for our nation's youth and future," President Bush remarked. "I'm proud to be the Honorary Chairman and to have worked with Joe Barrow, and I thank him for his leadership over the years. I congratulate Keith Dawkins and look forward to working with him. The First Tee, and thousands of young people, will benefit from his energy and experience."
"On behalf of the World Golf Foundation Board of Directors, I am pleased to welcome Keith Dawkins to the world of golf and to The First Tee as its next CEO," said Mike Whan, LPGA Commissioner and Chairman of the Foundation. "We were unanimous in our decision and believe Keith's experience, passion and demonstrated leadership will undoubtedly build on the successes that Joe Barrow so thoughtfully achieved."
Dawkins will begin his role with The First Tee on October 16 as incoming CEO, and he will officially take the reins as CEO upon Barrow's retirement, January 1, 2018. Dawkins will report to the World Golf Foundation Board and The First Tee Advisory Board.
"Keith is a dynamic leader who brings a suite of assets to the position, most notably a proven track record of forming high-level and lasting partnerships, organizational management and innovation, and a commitment to diversity and inclusion," said Finchem. "I am thankful for Joe's unwavering commitment to The First Tee over the past 18 years, and I trust the transition of leadership will mean continued momentum for the organization."
Dawkins is a 25-year veteran of media and entertainment, most recently serving as Executive Vice President of Nickelodeon. While at Nickelodeon, he had overseen tween/teen-targeted and animation-based networks TeenNick and Nicktoons, as well as Nick Jr. and NickMusic.
Dawkins also led key multi-screen initiatives including NickSplat, targeting adults who love '90s Nickelodeon, and Nickelodeon Sports. Through Nickelodeon Sports, he helped forge relationships with all major sports leagues to create new, multi-platform content and drive marketing events and initiatives, including an on-site presence at Super Bowl LI in Houston. Dawkins recently led the engagement between the PGA TOUR and Nickelodeon, which resulted in a PGA TOUR-themed weekend on Nickelodeon and an on-site branded kids' zone at THE PLAYERS Championship.
During his tenure with Viacom, Dawkins served on numerous advisory boards that fostered diversity and inclusion, including the Viacom Office of Global Inclusion Advisory Committee. He joined Viacom in 2000 as a supervising producer for VH1 News, and prior to that, Dawkins was a Fox News Channel producer, where he was part of the network's original launch team.
Dawkins holds a Bachelor's Degree in Communication from Ramapo College (currently sitting on their Board of Governors), and he is a graduate of the CTAM Executive Management Program at Harvard Business School and the National Association of Multi-ethnicity In Communications (NAMIC) Leadership Program at UCLA's Anderson Graduate School of Management.
"I am excited to be joining The First Tee and look forward to working alongside both Boards and key stakeholders—including chapters—to build upon the success and foundation of the organization," Dawkins said.

(Photo: Courtesy PGA TOUR)


Ludacris Headlines Atlanta Celebrates the TOUR Championship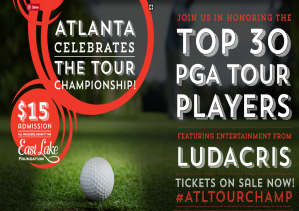 The TOUR Championship back to our city on Monday, September 18! The event will feature a performance from hometown favorite Ludacris and the night will celebrate the PGA TOUR's season-ending event as the top 30 players come to Atlanta to compete for the FedExCup.
V103's Ryan Cameron will emcee the event, which will include appearances by Atlanta sports celebrities and top PGA TOUR players.
Atlanta Celebrates the TOUR Championship will take place at the College Football Hall of Fame from 7pm to 10pm. All proceeds benefit the East Lake Foundation.